VHS

ystems

™

(William "Bill" Eccher) has created modifications because there was nothing on the market.  All documentation has been created by Bill and he has given you personal use to the modifications and documents.  Be sure to checkout the links at the bottom of the page.
HICKOK 539B & 539C GM Main Meter Test and adjustment - Added 2/21/2019
Procedures to test the Main Meter and make adjustments.  Document has schematic to build your own circuit if you don't have an All In One II test and calibration unit.
Transformer
Transformer pin out for the Hickok 539B and 539C test units.  The file is in PDF format and will open in a new tab on your browser.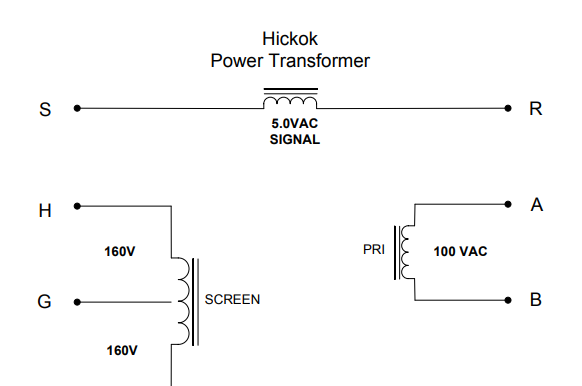 Part Location
Parts Location for the Hickok 539B and 539C test units.  Basic part location with part number to assit in servicing your tube tester.  The file is in JPG format and will open in a new tab on your browser.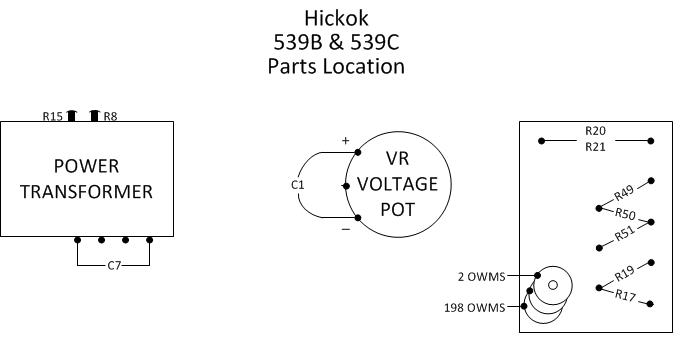 HICKOK 539B & 539C AC LINE METER CALIBRATOR
This is a passive device that can correct line meter errors of plus or minus 5 volts making it possible to save the old meter. New ones are difficult to find and expensive if you do. You can keep your tester looking original with this modification.
HICKOK 539B & 539C DC BIAS Conversion
Physically it takes advantage of two unused posts on the resistor board plus one added terminal to mount the components.  Late model 539C's will require 3 posts to be added.  A simple and easy conversion that has a minimal effect on the Transconductance, but a dramatic effect on the accuracy between testers.
HICKOK 539B & 539C PLATE CURRENT MODIFICATION
This application of ohms law gives us a simple way to measure Plate Current without breaking the circuit to insert a Current Meter. You only need to connect the multimeter when testing for Plate Current, since the resistor inside the tester completes the Plate Circuit.
HICKOK 539B & 539C BIAS FUSE MODIFICATION
For reasons unknown Hickok omitted the Bias Fuse Bulb in these two models. It was used in models before and again after in both the 752 and 580 models. Many others have installed their own version or had a repair facility do it for them.
HICKOK 539B & 539C TUBE TESTER OPERATION with Digital Main Meter
Operation of the Hickok 539B & 539C Tube Tester with Digital Main Meter.
HICKOK 539B & 539C TUBE TESTER OPERATION with Analog Main Meter
Operation of the Hickok 539B & 539C Tube Tester with Analog Main Meter.
HICKOK 539B & 539C POWER TRANSFORMER DC BALANCE MOD
There is between 7 and 15 ohms difference between the 2 plate windings of the power transformer.  This unbalance is created by the layering of the windings and the need to balance the AC output.  As you can see this does not create a significant error until the plate current gets to around 40 mA.
HICKOK 539B & 539C TUBE TESTERS FILTER CAPACITOR C4 REPLACEMENT
It has been common practice to replace the two electrolytic capacitors C1 and C4 when servicing these tube testers along with the other capacitors. The following outlines a negative result that can occur when replacing C4.
HICKOK 539B & 539C TUBE TESTER VARIAC OPERATION
Tube testers had to operate over a wide range of line voltages and loads. This was accomplished by using transformers with lower voltage primaries. By placing a rheostat is series between the line voltage and the primary of the transformer it could be set on the meter to an established value. Of course this resistance in the rheostat could cause a sag with the load of the tube being tested. Various methods were used to compensate for this, but it had an overall effect on the accuracy of the tester.
HICKOK 539B & 539C TUBE TESTER PRECISION BRIDGE ASSEMBLY
The Bridge Circuit consists of two 40 ohm and two 60 ohm precision spool resistors in these units. Over time many of these spool resistors have changed value or failed. Today these resistor values are no longer available in the precision and wattage required.
HICKOK 539C 10 PIN NIXIE TUBE SOCKET TO 9 PIN SOCKET SAVER MOD
When Hickok designed the 539C to replace the 539B new sockets had been introduced, which created issues fitting them into the faceplate. A compromise was made with the 9 pin miniature tube socket to accommodate the 10 pin nixie socket. Since the added pin was in the middle of the socket the retainer machine screw could not be used to secure the 9 pin socket saver.
HICKOK 539B and 539C SOLID STATE CONVERSION
This conversion replaces the type 83 and 5Y3GT tubes with solid state components. It provides the correct voltage drop over the necessary range of test current. No wiring changes are necessary as it plugs into the existing tube sockets. For the later model 539C's the tube socket assy. must be turned over.
VHSystems on the Internet and related links
This is a list of links that have quality information and is approved by Mr. Eccher himself.  We have also put links to VHSystem (William "Bill" Eccher).
Colorado Radio Collectors
November 2015 meeting.
Bill Eccher's Hickok, Model 539B, Tube Tester with Digital Modifications.
This is the All-In-One first generation and a new model is currently being produced and can be found under Products.
Publication in is PDF format and will open a new tab on your browser or you can go to their website and search Eccher.
Antique Radio Club www.radioace.com
BBTV Test Equipment
THIS SITE IS NEW, AND UNDER CONSTRUCTION.  SUGGESTIONS WILL BE CONSIDERED-just click on "contact" and share your thoughts
CURRENTLY (AS OF 10/20/18) MANY LINKS ARE TEMPORARY OR INCOMPLETE.  Tube Tester "Hickok 539B" is currently the most complete template, so look at that one for a preview of things to come for every instrument.  I am asking for input before I commit to 500 separate photos and items, as each one must be edited individually 
Antique Radios Forum
Test Equipment and Tools Discussions